BULK SMS SERVICE
---
We provide web based Bulk SMS portal to send Promotional & Transactional SMS. We provide high quality delivery ratio with lowest cost SMS. Bulk SMS helps to promote & increase your business.
SMS FEATURES
---
Brand exposure that leads to increase in sales

---

Establishing a brand takes more than a single launch or introduction of the product. You need to be able to instil it in the minds and hearts of every individual who might potentially be interested in your products and services.

Allows the transmission of time-sensitive information

---

You may, for example, wish to reach your customers just before lunch hour (if you have a restaurant) and you want to promote daily specials particularly on slow days of the week.

Shortens your time to market considerably

---

You can reach groups of people who are interested in knowing about your products and services instantly.

Multi Language Messages (Unicode) Supports

---

You able to customize your messaging for specific language groups.

Life Time Validity of SMS

---

We Offers life time validity of SMS.

It is GREEN!

---

No more wasting paper! Every day we throw out countless envelopes and inserts that we never read. Not only does text message marketing reduce waste, your message is also stored on the recipient's phone! By transitioning to SMS mobile marketing, you will be saving the planet while actually helping your company!

Group Messaging

---

Send a generic message to all recipients or custom message to each recipient based on a template.With our scalable and robust interface, you can send thousands of SMS messages per second based on your business needs. Schedule messages to go at a particular date & time, or setup recurring campaigns.

Reaching more people at a time

---

With a single click of a mouse or a button, you can already send messages to a multitude of people simultaneously.
High reliability

---

Send SMS to your groups without the need for computer or internet. Great solution to send alerts and news to your groups on the go. Send you SMS to our dedicated number and based on your setting we will broadcast it your group.

Delivery Reports

---

Monitor the progress of your SMS campaigns and broadcasts using our Instantaneous and Dynamic delivery reports. Filter, search or download reports for further analysis and transparent billing.

Easy to use user Interface

---

You can manage single, bulk and customized SMS messaging through an efficient web-based interface.

No Hidden Charges

---

SMS price is fixed & there are no hidden charges.

Advanced delivery

---

In addition to comprehensive delivery reports.

Dynamic Sender ID

---

Sender Id is the name or number that is shown on the recipient's mobile phone when they receive an SMS message. Send all your SMS with a custom Sender Id that reflects your brand or group. Depending on the telecom rules of the country, we work with operators to get the required Sender Id assigned to you.

Maximizes cost-effectiveness and returns

---

Our leading edge platform allows you to increase sales of existing products as well as introduce new ones. A properly designed and executed SMS Marketing campaign can produce response rates of up to 20%! Text messaging has been estimated to be 10 times more effective than newspaper advertising and 5 times more effective than direct mail.

HTTP API Available

---

Thousand of our clients have integrated our API into their applications to send alerts, notifications, confirmations and pass codes. Our flexible and powerful API works with almost any software application and major ERP solutions.
PROMOTIONAL V/S TRANSACTIONAL SMS
---
Promotional SMS
Promotional SMS useful for promotional / marketing activities.

No documents required for activation of account in Promotional SMS.

Message will not delivered to DND numbers in Promotional SMS.

In Promotional SMS sender id will be auto generated, like IM-680542.

Example of Promotional SMS :

Dear XYZ, new admission is open for XYZ course. Take admission today & get 20% discount. Limited Seats available. Hurry Up.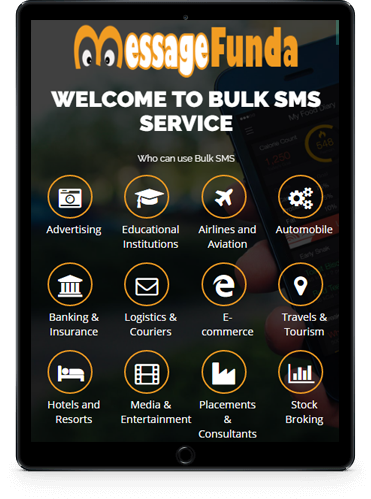 Transactional SMS

Transactional SMS useful for important notifications.

Documents required before activation of account in Transactional SMS.

Message will be delivered to DND numbers in Transactional SMS.

6 char. sender id will be provided in Transactional SMS like LM-ICICIB for ICICI bank.

Example of Transactional SMS :

Dear XYZ, Your fees of Rs. 5000/- is overdue. Kindly make payment today itself to avoid penalty.
We provide
Cheap, Affordable, Fast, Reliable
BULK SMS Service.
Frequently Asked Questions
---